Regular price
€19,92 EUR
Sale price
€19,92 EUR
Unit price
per
Sale
Sold out
Repairs and strengthens
A true miracle complex, our leave-in spray with prebiotics and Aloe Vera offers a complete moisturizer with dry and brittle hair. Thanks to the emollient properties of Aloe Vera and the rebalancing power of prebiotics, a few sprays can restore the hair strength, brilliance And sparkle .
This care concentrate provides hair with all the nutrition and protection it needs on a daily basis. The synergy between aloe and the balancing power of prebiotics offers universal care, beneficial to all hair types. A few sprays of this leave-in spray with an ultra-light texture bring shine, softness and radiance to the hair. Frizz is smoothed, the hair is sheathed and protected against external aggressions. Discover its 10 benefits in one:
1. Detangles
2. Smoothes frizz
3. Prevents split ends
4. Lightweight hydration
5. Protects against pollution and UV
6. Protects against iron and dryer heat
7. Sheath the hair
8. Makes styling easier
9. Brings a silky touch
10. Increases shine
Details :
Free delivery in France for orders over 50€.
Benefits

Prebiotics are substances that nourish and stimulate the growth of microorganisms, helping to maintain the natural balance of skin flora to confer health benefits.

EMIA hair care offers a complete treatment to the hair, respecting its natural balance. Available in several ranges designed to meet the needs of all types of hair, our shampoos, treatments and styling products with prebiotics nourish the microbiota of the hair, which helps maintain the natural balance of the skin flora. They bring softness, shine and strength to the hair, and thus keep it healthy.

We have carefully selected three natural active ingredients with synergistic action with prebiotics:

Aloe vera, to hydrate and revitalize dry hair.
Usage tips

Apply Emia 10 in 1 treatment to washed, dry or wet hair depending on the desired effect. It can be used before cutting, before brushing or as a finish. Do not rinse and proceed with styling.
Ingrédients

Aqua, Isopropyl Myristate, Cetearyl Alcohol, Fragrance, Glycerin, Dimethicone, Sodium Benzoate, Propylene Glycol, Centrimonium Chloride, Cichorium Intybus Root Extract, Prunus Amygdalus Dulcis Oil, PEG-20 Stearate, Sodium Dehydroacetate, Polyquaternium-11, Phenylpropanol, Lanolin, Polyquaternium 7, Sodium PCA, Sodium Lactate, Linalool, Limonene, Benzoic Acid, Hydroxycitronallal, Isopentyldiol, Dehydroacetic Acid, Lactic Acid, Coumarin, Sodium Lauroyl Lactylate, Geraniol, Urea, Fructose, Glycine, Niacinamide, Inositol.
Delivery

Delivery costs are offered in metropolitan France from 50€.


Delivery times are between 2 and 3 business days from the dispatch of the parcel.

In France and in Spain, the delivery price is 4.90€.

In Europe, the delivery price is 10€.

For international delivery, the price is 20€.




Please note that for Switzerland and the United Kingdom, customs fees at the expense of the customer may apply.
View full details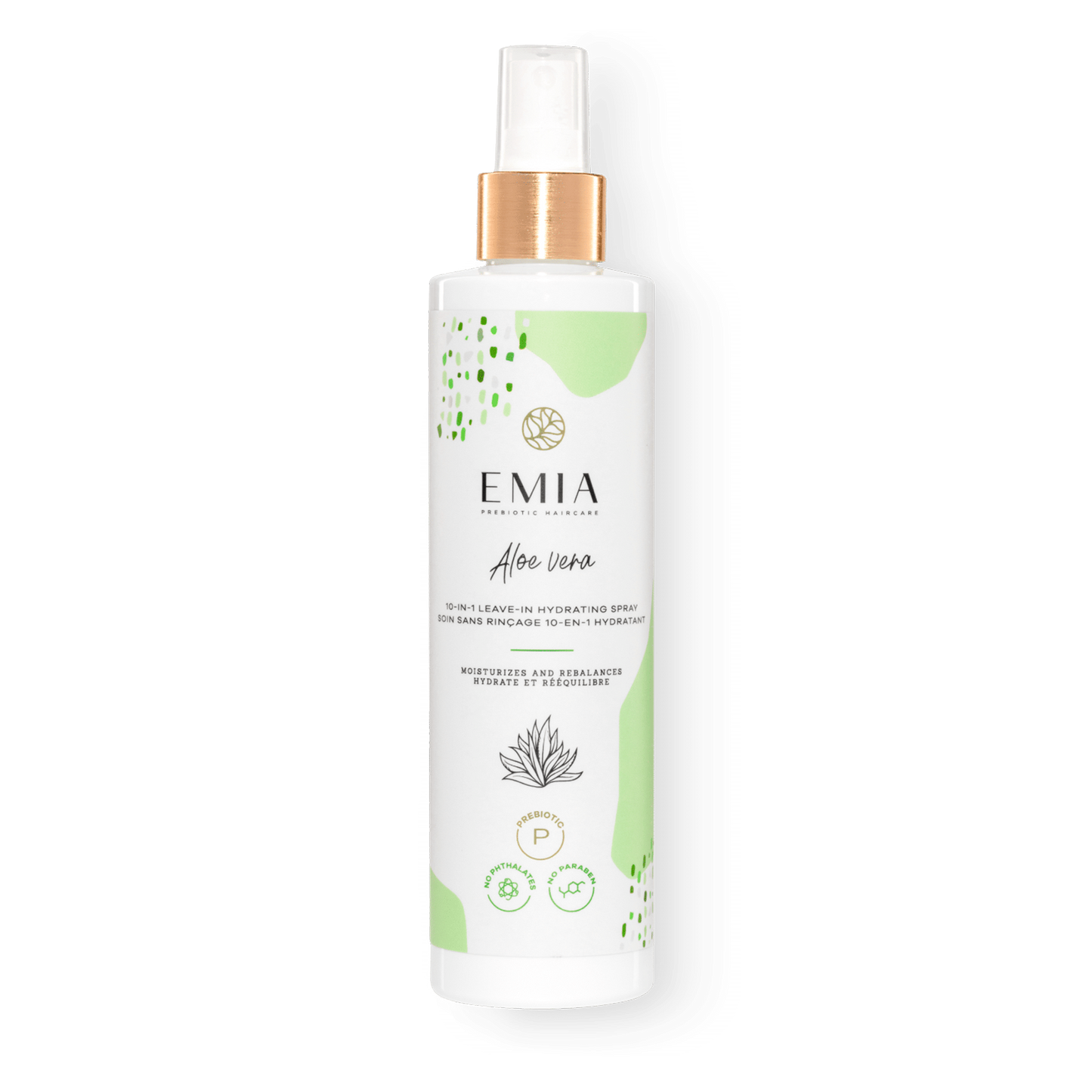 FREQUENTLY ASKED QUESTIONS
Are your products suitable for pregnant and breastfeeding women?

At EMIA, we attach great importance to the safety and health of our customers, including pregnant or breastfeeding women. We use high quality, natural ingredients in our products, but since everyone is different, we recommend that you consult your doctor before using any skincare product, including those from EMIA, while pregnant or breastfeeding.




Some essential oils and herbal extracts may not be recommended for pregnant or breastfeeding women, so it is important to discuss the use of skincare products with your doctor to determine if these are suitable for your personal situation.
How to store your products?

To ensure the quality and shelf life of our EMIA products, we recommend storing them in a cool, dry place and away from direct sunlight (for example, in a cabinet or bathroom drawer). The ideal storage temperature is generally below 25°C.

It is also important to keep the products tightly closed after each use to prevent air from entering, which can alter the quality and stability of the natural ingredients.

By following these storage recommendations and using the products before the expiration date, you can extend their shelf life and preserve their effectiveness and quality.
Are EMIA products tested on animals?

No, we are against animal testing and none of our products are tested on animals. We are also attentive to the origin of the ingredients used in our products and we work with suppliers who share our commitment to animal welfare.
How can I contact customer service?

We will be happy to answer all your questions and concerns Monday to Friday from 9am to 5pm. You can contact us :

- by phone at +33 1 76 40 09 78

- by email: Access the form

We will do our best to respond to you as soon as possible.